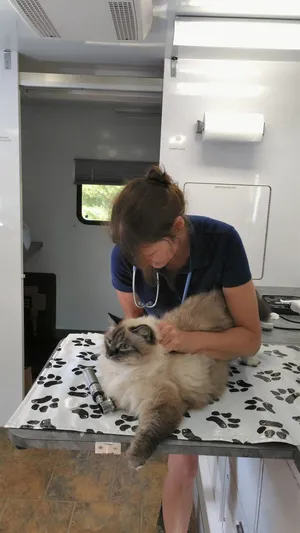 Preventative Care For Your Pets
Serving The Portland, Scarborough, & Freeport, ME Areas
Unfortunately, pets can't tell you what is wrong. However, with regular exams, as well as your own observations you can stay on top of you pet's health. Preventative care is one of the best things you can do for your pet to make sure they are healthy and happy throughout their life. When you team up with our mobile veterinarian to create a plan to stay in control of your pet's health, you can help prevent certain life-threatening diseases. Routine visits depend on the breed, age, and health status of your pet.
Routine Examinations From Our Veterinarian May Include:
Weigh-in – This will help determine if your pet is at a healthy weight or if they need some nutritional/exercise counseling in order to get to a healthy weight.
Skin and eyes – Our veterinarian will check your pet's coat and look for anything abnormal. Eye exams are used to discover cataracts or other eye problems.
Ears – By checking the ear flaps, canals, and ear drums, we can prevent problems or discover ear mites.
Nose and mouth – Our veterinarian will check your pet's nose to make sure there is no discharge. Also, the mouth is checked for harsh smells, rotting teeth, and signs of periodontal disease. We stress brushing regularly to prevent costly dental procedures.
Full body – Legs, joints, and the abdomen and examines to make sure nothing stands out as abnormal. Stool samples are also a good thing to bring to be examined.
Heart and lungs – By using a stethoscope, our veterinarian will listen to your pet's heart and lungs to make sure everything sounds good and to discover heart murmurs or other problems as early as we can.
Our preventative care also includes vaccines, rabies tags, heart worm tests, lyme disease testing and other tick born infections, and preventative treatments for fleas, ticks, and heartworm. A comprehensive exam is important for your pet's health. Call our veterinarian today for more information or to schedule an exam. Rest assured your pet is in good hands with us.
We serve the Portland, Scarborough, Gray, Lewiston, Westbrook, Falmouth, Windham, Auburn, and Freeport, ME areas!
---
Pet Vaccinations Throughout The Portland, Freeport, & Scarborough, ME Areas
Vaccines for your pets are so important. Just like human vaccines, they are designed to protect the immune system to fight off disease-causing agents. When the vaccinations begin working, they will destroy any disease-causing organisms that enter your pet's body.
Over the years, pet owner's who have vaccinated their animals have helped prevent their pet from contracting contagious diseases the could result in death and diseases. Not only will you protect your pet, but you could help improve your pet's overall quality of life.
Our Veterinarian Can Help!
At Pets Mobile Vet, serving the Portland, Freeport, and Scarborough, Falmouth, Lewiston, ME areas, Dr. Maloney will help you maintain accurate records of your pet's vaccination history. Following the recommended schedule by a veterinarian will reduce the possibility of a gap in protection.
Young pets are especially susceptible to infectious diseases as their immune system had not fully matured yet. The first application of vaccines will help prime the immune system against viruses and/or bacteria. Subsequent doses of the vaccines will produce the important antibodies needed to protect your pet from diseases.
As a veterinarian, Dr. Maloney understands the schedule your pet will need and can help tailor a schedule to your pet's specific needs. A lot of the vaccines given provide the immunity needed and only need to be repeated every couple of years.
"Core" Vaccinations:
Rabies Canine parvovirus Canine distemper
Additional Vaccinations:
Lyme disease, Leptospirosis, Bordetella, and more
When you are looking for a veterinarian in the Portland, Freeport,
and Scarborough, ME areas, rely on Dr. Maloney at Pets Mobile Vet.