At Home Veterinary Services
Exams, vaccines, sick visits, euthanasia, blood testing, reike
The Pets Mobile Vet PLLC is Cumberland, ME's premier hospital on wheels you can trust with your pet's health. We offer a full range of at home veterinary services at affordable prices so you never have to dread paying off another vet bill again. If you're wondering how a mobile vet can help with so many services, we'll tell you.
Dr. Maloney had a custom truck built to ensure she could handle a full range of veterinary services including digital radiology, preventative care, Lyme disease testing, and more. She even has a separate surgical suite for routine sterile procedures such as spaying/neutering and mass removals. Using advanced anesthetic protocols, your pet can have a fast recovery.
If your pet is ill, a diagnosis leading to treatment can be derived by using diagnostic tests. Complete blood testing, advanced digital radiographs (X-rays), and other diagnostics can be done to accurately diagnose an illness with results in 15-30 minutes. This allows Dr. Maloney to immediately develop an informed customized treatment plan that works for the pet and his or her owner! We provide services to the Windham, Scarborough, Auburn, Falmouth, Gray, Lewiston, Portland and Freeport, ME areas!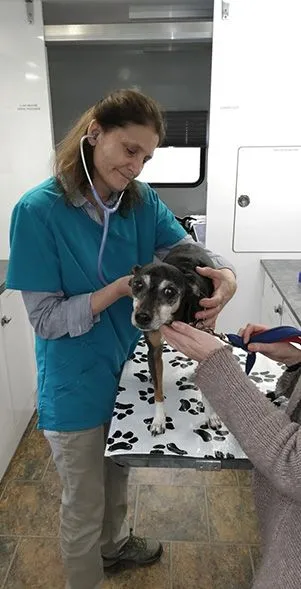 The Pets Mobile Vet Provides Veterinary Services to areas within a 30 Mile Radius From Cumberland
Digital radiology

Complete blood analysis

Anesthesia/sedation

Surgery

Heartworm/Lyme disease testing

Feline leukemia/AIDS testing

Medications

Home euthanasia

Dental cleaning & Surgeries
Benefits of Routine Visits
1. Regular visits help your pet interact with our friendly staff which may help ease anxiety during future visits.
2. Vet can detect any potential problems with your pet.
3. Update health history
4. Update on vaccinations
5. Refill preventative heart-worm and flea/tick medications
6. Routine blood work
7. Diet and Weight Management
When To Call The Vet:
When eating habits change

When they are drinking too much or not enough

If they seem unusually sleepy and lazy

If their coat changes

When there is significant weight gain or weight loss

If they are vomiting

If they are having difficulty breathing

When you have questions or doubts
Discounts
HOMETOWN DISCOUNT: Cumberland residents receive 50% discount on the house call portion of the bill.